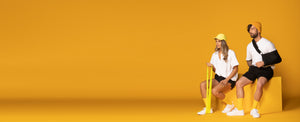 Take the pain out of dressing.
WHAT EVERYONE IS SAYING ABOUT RECOVAWEAR
I received a pair of recovawear pants after a full knee reconstruction surgery this winter and was actually really impressed with them. I didn't realise how difficult it was to wear normal pants with a big, full-leg knee brace. It didn't fit under andy of my normal pants and was too uncomfortable to wear over jeans etc. but the Recovawear pants could do both! Over or under!

Kate

Knee Surgery, Australia
Recovawear played a major part during my most intense recovery time. It was a relief to have clothing options that not only was easy to put on and off, but also comfortable and good looking. As I slowly managed to leave my home for various reasons, it was comforting having my recovawear as they served their purpose of being an easy wear, but I didn't have to look as injured as I was.

Gabriella

Head injury from accident, Sweden
Really good job guys, if I found these garments a s brilliant as I did for the two months following my surgery, they will be a godsend for people with permanent debilitation or long-term rehab from injuries.


They are practical, lovely clothes that keep one's dignity intact, make a difficult time less difficult, and you don't have to look like a dag during!

Kate

Knee Reconstruction Surgery, Australia
I was also really impressed at how well the pants helped me with physio and going to the toilet. I didn't realise how difficult this was going to be but the pants made it simple to access my knee/leg from the top or bottom of the pants, I didn't have to take the pants off completely during physio (which was nice to not haveto be half naked for session), and I could also access my dressings without having to take my pants off or roll them up uncomfortably past my swollen knee. Thank you Recovawear!

Kat

Knee Surgery, Australia
Recovawear was truly a unique benefit to me in the first few weeks of my shoulder surgery. Immediately post-op, when most sensitive and painful, I was able to change into a Recovawear T-shirt before checkout from the hospital with minimal assistance and required no futher assistance taking it on and off thereafter. Anyone who's had shoulder surgery knows the difficulty of wearing a t-shirt without being able to lift your arm and recovawear solves this issue.

Andreas

Shoulder Reconstruction Surgery, Singapore
If it wasn't for Recovawear, I would have needed to remove my pants completely in order to be treated with acupuncture, ultrasound and massage. The recovawear unisex pants were very comfortable to wear and looked great too. The stretch in the material allowed me to pull the pant leg up, rather than undress at all of my appointments. They were also very comfortable to wear while sitting at my desk to work before and after my appointments! I'd happily recommend these pants (and did recommend them to my physio) especially for people with knee pain who don't like being half naked behind a flimsy curtain!

Shannan

Knee Injury, Australia
My Unisex Casual Pants have have made dressing quick and pain free. I got them early post op and not having to ask for help was great. They have a really nice cut and are much better quality than anything else I have tried. They are holding up to regular wear and washing beautifully. A good thing as they are doing some hard yards. Awesome product. Great Service. Really Impressed.

Ursula

Back injury and ongoing management, Australia
As seen on
Don't Let your Body Define you
Fashionable; fair-trade and recyclable; helps preserve patient independence, agency and dignity; looks like everyday active-wear, meaning you're more likely to wear it, and wear it out; tested for real-world situations; clinically tested in numerous rehabilitation hospitals.
Learn more
Join the Recovawear Referral Program today
Give your patients the chance to dress comfortably and Independently with our range of adaptive clothing. Minimise the pain of dressing. Become a referrer today and receive a personalised link to your business website, a discount for your patients and an additional income stream.
Join today